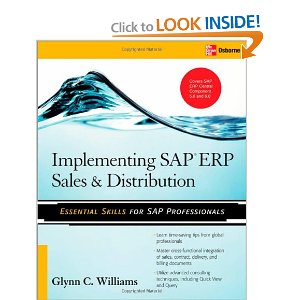 Book Description
Written by senior SAP consultant Glynn Williams, Implementing SAP ERP Sales & Distribution is packed with tested, time-saving tips and advice. Learn how to use SAP ERP Central Component 5.0 and 6.0 to create sales documents and contracts, control material and customer master data, schedule deliveries, and automate billing. You'll also find out how to deliver robust financial and transactional reports, track customer and credit information, and interoperate with other SAP modules.
Configure and manage the SAP ERP SD module
Track sales, shipping, and payment status using master records
Create multi-level sales documents and item proposals
Develop contracts and rebate agreements
Deliver materials and services requirements to the supply chain
Plan deliveries, routes, and packaging using Logistics Execution
Perform resource-related, collective, and self billing
Generate pricing reports, incompletion logs, and hierarchies
Handle credit limits, payment guarantees, and customer blocks
Integrate user exits, third-party add-ons, and data sharing
Configure pricing procedures and complex pricing condition types
From the Back Cover
Expert Guidance on How to Successfully Implement This Brand-New SAP Module!
One of the world's leading SAP Sales & Distribution consultants delivers the first comprehensive and practical guide to implementing this new module in the R/3 system. Inside this book you'll get complete information on the ins and outs of the software, including basic functions, sales document flow, invoicing, and how the S&D module interfaces with other modules.
This remarkably clear and concise book will show you how to:
Get an overview of SAP functions and find out where to access data throughout the system
Configure and implement the Sales & Distribution model
Learn the differences between sales document types and how they control deliveries and impact other modules
Understand the basic functions that make up the sales process, including pricing, output, and credit management
Create cross-functional reports using the standard SAP structures
Prepare for going 'live' and learn system testing methods
Book Details
Paperback: 513 pages
Publisher: McGraw-Hill Osborne Media; 1 edition (March 21, 2008)
Language: English
ISBN-10: 0071497056
ISBN-13: 978-0071497053
File Size: 18.9 MiB
Hits: 848 times