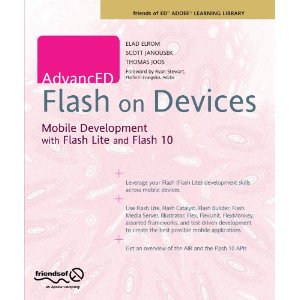 Book Description
AdvancED Flash on Devices, written for existing Flash developers and other interested mobile professionals, covers both mobile and device development with Flash Lite, as well as upcoming Flash 10 for smartphones and other non-PC devices.
The book starts with a discussion of the mobile development landscape—the different players, tools, hardware, platforms, and operating systems. The second part of the book covers Flash Lite and how to take advantage of new features supported in Flash Lite 3.x. Then, the book covers AIR applications for multiple screens and includes topics such as:
How to utilize new features of AIR 1.5 and Flash 10 as well as pitfalls to be aware of when building an AIR application for mobile
How to include platform and context awareness for better adaptation
How to adopt an application on multiple devices using dynamic graphical GUI
Creating two full working real life touch screen mobile application
The last part of the book covers creating Flex applications running Flash 9 and 10 in mobile device browsers and includes topics such as:
How to adopt Flex for multiple mobile device browsers
How to create various video players for Flash Lite and Flash 10 and optimize your content.
How to take advantage of Flash Media Server
Experienced Flash and ActionScript programmers who want to extend their skills to mobile platforms should find this book a great help in developing in this exciting and expanding marketplace.
In this book, you'll learn how to:
Create Flash Lite-based widgets on Nokia Series 60 devices and other Flash enabled devices
Extend device capabilities using both Sony Ericsson Capuchin and Nokia S60 Platform Services with Flash
Leverage Flash Video on smartphones and other Non-PC devices
Approach migrating existing Flash content into native iPhone content using 3rd Party Developer tools
Create two full working real life touch screen Flex mobile applications
About the Author
Scott Janousek is a Flash and Flash Mobile developer currently working in the Boston area of the United States. In addition to his experience with mobile development, Scott has an accumulated ten years of diverse software engineering and Web consulting background, and several of those years were dedicated to the creation of interactive multimedia, including CD-ROMs, DVDs, webcasts, kiosks, RIAs, and web sites. Today, Scott is an Adobe Certified Flash Designer and Developer, as well as a recognized Flash Lite Subject Matter Expert. In addition, he is also an Adobe Certified Instructor for Flash Lite and Adobe Certified Developer for Mobile Application Development. He holds a bachelors degree in computer science from the University of Massachusetts, Amherst. An active and contributing member of the Boston Adobe Mobile and Devices User Group (AMaDUG), Boston Flash Platform User Group (BFPUG), and Mobile Monday Boston (MoMoBoston), Scott is passionate about the Flash platform across mobile devices as well as for the desktop. When he has a chance, he speaks at new media institutes, user groups, and conferences about Flash and Flash Mobile, including most recently the Design & Technology Festival (FITC) 2006, Adobe MAX 2006, and Adobe MAX Asia Pacific 2006. He has also written a number of technical articles on Flash Mobile technologies, such as Flash Lite, including some of which can be found on the Adobe Developer Center web site. Check out his blog at www.scottjanousek.com/blog for more information about his latest Flash and Mobile endeavors, as well as his occasional post about the latest and greatest portable consumer electronic devices.
Elad Elrom is a technical writer, technical lead, and senior Flash engineer. As a technical writer, Elad wrote books covering Flash technologies. He maintains an active blog and has spoken at several conferences regarding the Flash platform. He has helped companies follow the XP and Scrum methodologies to implement popular frameworks, optimize and automate built processors and code review, and follow best practices. Elad has consulted a variety of clients in different fields and sizes, from large corporations such as Viacom, NBC Universal, and Weight Watchers to startups such as MotionBox.com and KickApps.com.
Thomas Joos is a Belgian Multimedia/Mobile Developer. He studied Multimedia at the Technical University of West-Flanders. He specialized in Flash Lite Development and is now working for Boulevart as a mobile consultant.
Beside Flash Lite development he is also into Mobile Interface Design, AS3, AIR and Flex.
Book Details
Paperback: 744 pages
Publisher: friends of ED; 1 edition (August, 2009)
Language: English
ISBN-10: 1430219041
ISBN-13: 978-1430219040
File Size: 14.3 MiB
Hits: 1,106 times