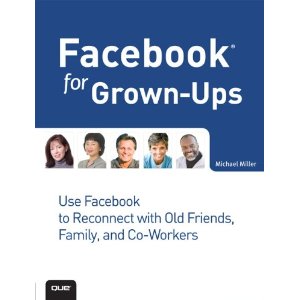 Book Description
Facebook started out as a social network for high school and college kids. But now grown-ups like you are getting connected, too–even if you use Facebook much differently than your kids do. If you're a grown-up looking to join the Facebook bandwagon, Facebook for Grown-Ups is just the guide you need. You'll learn how to use Facebook to reconnect with old friends and family members and keep them up-to-date on what's happening in your life.
Facebook for Grown-Ups shows you how to open a Facebook account, find new friends, post status updates, and share family photos and videos. You'll learn how to become a fan of your favorite performers, join a business network, and create your own topic-specific groups. And if you're worried about privacy, Facebook for Grown-Ups shows you how to keep your personal information from becoming public knowledge. You'll even learn how to keep track of what your kids are doing on Facebook–without them knowing it.
Read this book to discover how grown-ups can take advantage of everything Facebook has to offer. It's not just for kids anymore!
About the Author
Michael Miller has written more than 100 non-fiction how-to books in the past two decades, including Que's Absolute Beginner's Guide to Computer Basics, Googlepedia: The Ultimate Google Resource, and Windows 7 Your Way. He is also the author of Que's Facebook Essentials video and Pearson Higher Education's Introduction to Social Networking textbook.
Mr. Miller has established a reputation for clearly explaining technical topics to non-technical readers, and for offering useful real-world advice about complicated topics. More information can be found at the author's website, located at www.molehillgroup.com.
Book Details
Paperback: 336 pages
Publisher: Que; 1 edition (October, 2010)
Language: English
ISBN-10: 078974712X
ISBN-13: 978-0789747129
File Size: 29.3 MiB
Hits: 982 times